10 best characters played by Felicia Day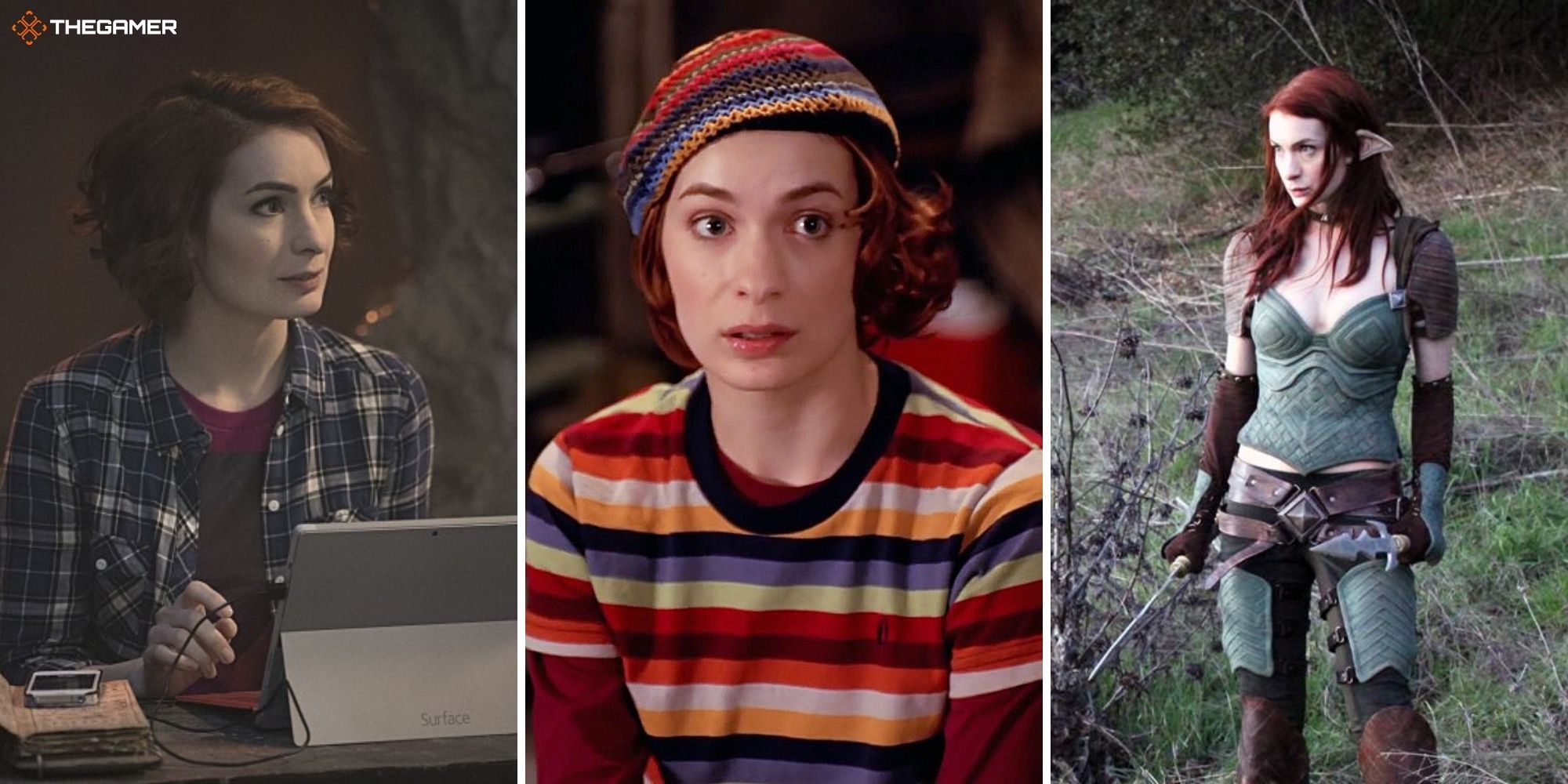 If you throw away the name Felicia's Day during a D&D session, you are bound to see a few faces light up. This actress, screenwriter and producer is well known to dedicated nerds and is easily recognized by her flaming red hair and goofy personality.
RELATED: The Weirdest Video Game Crossovers
Felicia Day has performed on and off camera for a number of well-known shows, games, and films, including Fallout: New Vegas, Dragon Age 2, and Buffy the Vampire Slayer. Cards of her have even appeared in some board games, such as Dead of Winter: A Cross Roads Game, The Big Geeky Box, and Gloom! Today we take a look at some of her best roles as an actress.
Vi – Buffy the Vampire Slayer
Violet – or "Vi," as she is better known – is a character who first appeared in the seventh season of Buffy the Vampire Slayer. She stayed until the ninth season and also appeared in several books. Felicia Day hadn't really planned on playing Vi; she had originally auditioned for the role of Winifred Burkle.
Vi is a young woman who has been dubbed "Potential Slayer" by the Council of Observers – someone who had the potential to become the Slayer. Despite this, she was extremely protected by her watcher. She never saw a vampire before being sent to Buffy in Sunnydale – except in a blurry photo. Of course, as the story progressed, Vi grew into a confident and powerful woman in her own right.
Zojja – Guild Wars 2
In the Guild Wars 2 MMORPG, players can choose to play as one of five races: Asura, Sylvari, Norn, Charr, or Humans. Each race has a mentor figure who guides the player through the story and Day's character, Zojja, is the asura mentor.
Asuran culture revolves strongly around academia, information and intelligence. Many asura claim to be geniuses, but Zojja is one. She was flanked by a brilliant (now deceased) golemancer named Snaff, whom she speaks fondly of to this day. The passion for golemance that Zojja has developed means that she has a personal golem following her everywhere, adorably named "Mr. Sparkles".
Charlie Bradbury – Supernatural
Charlie Bradbury was a recurring character in Supernatural, a dark fantasy TV show, starting with season seven. Charlie appeared in every season until the tenth, when she was killed, but was mentioned or seen in a memory streak every season until the end of the series. This is probably due to the fact that she was loved by fans of the show: Jim Michaels once said, before Charlie died, that she was the "only character I know if I killed her you would kill me all".
RELATED: Supernatural: 25 Storylines They Want Fans To Forget
Whether or not it's a nod to Felicia Day's geek roots, Charlie and Felicia Day share many of the same cheesy interests, including Star Wars, Harry Potter, The Lord of the Rings, Game of Thrones, and more. Charlie is eccentric, outgoing and brilliant. Over time, she admits that she considers Dean and Sam to be her brothers.
Kinga Forrester – Mystery Science Theater 3000: The Return
Mystery Science Theater 3000 was a '90s show about mad scientists on a satellite orbiting Earth who kidnapped a janitor and tried to drive him crazy with bad movies. It started in 1988 and aired until 1999 when it was canceled.
But all hope was not lost! In 2015, creator – Joel Hodgson – relaunched the series via crowdfunding, and Felicia Day starred as King Forrester. The show's final season has been delayed, but is expected to resume when conditions improve. Day had been a fan of the original series since she was a child, so when she saw Hodgson at a convention, she must have taken a picture with him. That moment is what inspired Hodgson to throw her into the revival.
Forrester is in command of the research station where Mystery Science Theater 3000: The Return takes place, called Moon 13. She is not a mad scientist in the conventional sense, but rather because she is a patron of micromanagement and authoritarian.
Veronica Santangelo – Fallout: New Vegas
Veronica Santangelo is a fellow scribe and a potential player companion in Fallout: New Vegas, an action-adventure RPG. She is part of the Brotherhood of Steel, an organization operating in what was once America and focusing on preserving any untouched knowledge or technology it finds.
Although their purpose is noble at first glance, their roots in ancient American military values ​​have caused problems. Veronica is caught in the middle; while she is deeply loyal to the Brotherhood, she is frustrated by their strict adherence to the "Codex" (a book of laws that the members of the Fraternity respect).
Betty Grof – Adventure Time
Betty Grof is a human woman who was, once upon a time, engaged to the Ice King – or Simon Petrikov, as he was called then. However, when Simon got an enchanted crown, he put it on and passed out, and when he regained consciousness, Betty had run away. The crown slowly began to twist his personality and drive him into insanity.
Interestingly, Betty was only played by Felicia Day during the ninth and tenth seasons of Adventure Time. When she appeared in a few episodes of the fifth through the eighth season, she was voiced by Lena Dunham.
Poppy – The Magicians
The Magicians is a television series based on a trilogy of books of the same name. They are sometimes quickly summed up as the adult version of Harry Potter, with much more mature themes, settings, and characters. While this is a very simple way to describe the intricate series, they do share some basic story ideas, like an ordinary person finding out that magic is real and being taken to a magic school to study.
RELATED: The Best Games With Wizards And MagesPoppy was a student at this school of magic – Brakebills University for Magical Pedagogy – until 2014. During her spring break that year, she visited Fillory with her classmates and never returned. No one knew what had happened to her and her peers until she was discovered by Quentin Coldwater, who was attempting to bring magic back to the universe.
Tallis – Dragon Age 2: Redemption and Mark of the Assassin
Felicia Day played the role of Talis in Dragon Age 2, a Qunari elf in the Free Marches. She only appeared in the Mark of the Assassin DLC, which was released alongside a live web series called Redemption. Redemption follows Tallis as she tracks down a renegade Qunari Saarebas (a mage) and calls on others to find him. Meanwhile, in Mark of the Assassin, Tallis enlists Hawke's help in stealing a relic from a wealthy Orlesian by infiltrating his domain.
Tallis's model in Dragon Age 2 is based on Felicia Day's physical appearance, right down to the face and hair color. Day did a lot of motion capture work for the role and, as a longtime Dragon Age fan, was thrilled to be a part of the world.
Penny – Dr. Horrible's Sing-Along Blog
As the name suggests, Dr. Horrible's Sing-Along Blog is a wacky web series about an aspiring supervillain and his heroic nemesis. It starred Neil Patrick Harris as Dr. Horrible (the supervillain), Nathan Fillion as Captain Hammer (the stereotypical hero) and Felicia Day as Penny (the sweet and reserved love interest for the two. men). Penny and Dr Horrible get along fairly well at the start of the series (since she doesn't know about her supervillain dreams) but Dr Horrible gets more and more frustrated as Captain Hammer manages to get attention. by Penny.
The show came out at a time when long-running web series weren't common, and director Joss Whedon struggled to gain mainstream Hollywood backing. However, it has won a number of awards, including seven Streamy Awards, the Audience Award for Favorite Online Sensation, and the Hugo Award for Best Dramatic Presentation, Short Form.
Codex – The Guild
It would be a shame to discuss Felicia Day's best roles without talking about one of her first major hits: a web series, called The Guild, about dedicated (arguably addicted) MMORPG players. When Day first moved to Hollywood to become an actress, she had little success and began to obsessively play World of Warcraft. Eventually, she decided to create her own luck and wrote The Guild based on her own life as a player. Day played the main character, Cyd Sherman
As its popularity grew, The Guild featured several well-known actors – either as cameos or as additions to the cast – including Will Wheaton, Michele Boyd, Corey Martin Craig, Sujata Day, Hayley Holmes. , Nathan Fillion, and more. It was very successful and led to many new opportunities for Day. She then founded Geek & Sundry, a popular Youtube channel; you might know him because Critical Role started off as one of his shows.
NEXT: The Guild: What the Cast Looks Like Today
PSA: Don't remodel a villager's house with your door open in Animal Crossing DLC
A remodeling issue is related to corrupted save files in Animal Crossing: Happy Home Paradise.
Read more
About the Author