10 things you didn't know about Norn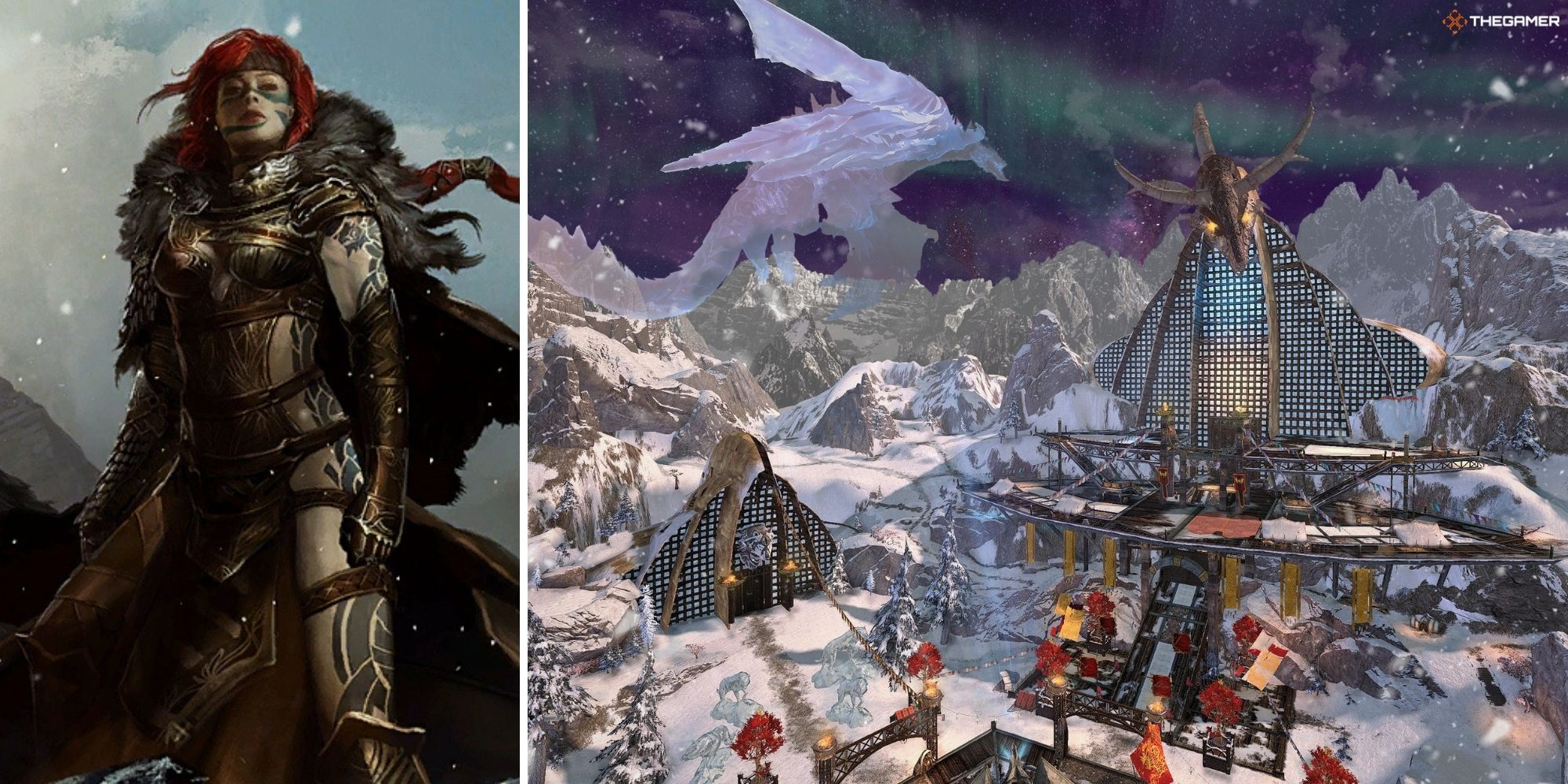 The Guild Wars 2 Norns are a race of huge humanoids that live in the mountains. It's not an uncommon trend among video games (Dragon Age's Avvar is just one example), but Norns have a few unique characteristics that make gamers fall in love with them.
RELATED: Guild Wars 2: A Beginner's Guide to PvPIt takes a strong will to live in the mountains, as well as a strong sense of optimism. Want to know more about this fantastic race, passionate about honor and greedy for beer? Read on!
ten


Where do the Norns come from?
There are several different beliefs about how the Norn came to be who they are.
The kodan say that the norn can be the descendants of a group of kodan who disobeyed the word of their god, Koda. This group, they claim, abandoned the rest of their people and went hunting in the south.
Finally, a Jotun storyteller, Thrulnn the Lost, claims that the jotun and the norn ruled together in the Shiverpeaks. When they fell from power, he says, the two races reacted differently. As the jotuns became more primitive, the norns turned to nature spirits for help.
Either way – if either is true – the norns themselves have said very little on the subject. They believe their ability to metamorphose was given to them by the bear spirit, but offer no other explanation for their appearance in Tyria.
9


They don't have a government (mostly)
Since the Norns are so independent as a species – and so proud – it's not too surprising that they object to bending the knee to a leader.
There is no government or even an official nation of norns. Rather, communities are run (in the loosest sense) by the people who have gained the most respect. Those norns who are considered heroic can create their own farms, but they are not responsible for the people who live there, and they would not try to be.
The only official leader is Knut Whitebear, who reigns over the Grand Lodge of Hoelbrak. He is a descendant of its founder, Asgeir Dragonrender. However, his responsibilities are not the conventional responsibilities of a leader or politician; Knut Whitebear is simply responsible for maintaining order and the security of the colony.
8


There are more than four spirits of nature
If you've ever created a norn character, you'll probably remember the intro cutscene in which your character describes the "four spirits of nature". These four (Snow Leaopard, Raven, Wolf and Bear) are especially revered for helping the Norns travel south away from Jormag long ago.
RELATED: The Best MMORPGs For Single Player PlayersHowever, there are many, many more wild spirits. If you've played the Living World quests, you may be familiar with the Ox, Eagle, Owl, and Wurm spirits, among others. There are essentially as many spirits as there are species of animals. They aren't all highly revered (or not at all), but there's nothing stopping you from worshiping the Rabbit Spirit if you want to.
7


How the Norns Think of Human Gods
The humans of Tyria worship a pantheon of six gods who respect different aspects of life: Dwayna (goddess of healing, air and life), Balthazar (god of war, fire and courage), Kormir (goddess of order, spirit, and truth), Melandru (goddess of nature, earth and growth), Grenth (god of darkness, death and ice) and Lyssa ( double-sided goddess of beauty, water and illusion).
The norn do not worship these gods, but they do in fact recognize that they exist and have power. They call them, as a group, "Spirits of Action". Kormir, for example, is the Spirit of Knowledge.
6


The Nornir of Norse Mythology
It is possible that the for the race was taken from the "Nornir". The Nornir are female mythological figures who control the fate of living things by weaving threads from a spindle. Each Nornir individually is called a "Norn".
Norse culture held that whatever the Nornir wove was set in stone, and even the gods would not be able to change it. They then encouraged their warriors to do what they saw fit because their "legend" had already been decided. It's easy to see the parallels between Guild Wars 2's honor-centric norns.
5


The Alemoots
Dedicated Guild Wars 2 players are probably familiar with moots: they are parties held between groups of norns. Although they can be detained for a specific reason, they can be detained for any reason or not at all! Moots usually include huting competitions, lots of booze, storytelling by the elders, and brawls.
RELATED: Guild Wars 2: 10 Interesting Facts You Didn't Know About SylvariWhile it's not clear if they continue, it is known that in the past the Norns have hosted "alemoots" – these are specifically meant to test how well participants can hold their ligor. The norns get really drunk and then try to complete an obstacle course! If you are a chef, just host your own and make alcohol for all the players so they can do a puzzle with a mobile screen.
4


Your ancestry doesn't make you special
Some honor-oriented cultures, fictional, historical, or otherwise, consider your ancestry to be important in deciding your inheritance.
This is not the case for the norns.
Although they may remember and respect their ancestors if they were particularly well known, a norn does not receive bonus points for the achievements of his family members (living or dead).
Not only does this provide a clean slate for the average young norn, it also means that norns don't judge people who may be judged by other races. A human who is the child of traitors will not be judged by the actions of his parents. Even the Sons of Svanir, people who are part of a cult worshiping Jormag, are not necessarily rejected simply by associating with the Sons of Svanir. They are tolerated, even in Hoelbrak (to a certain extent).
3


They don't care about the respectability of their great deeds
This point relates to the last one: norns don't necessarily care how "respectable" their actions are. A human may regard some actions as devious, but as long as he earns the respect of the norn's peers, that "devious" norn is equal to a "respectable" norn. The value and notoriety of your accomplishments is all that matters.
2


Marriages must be equal
While the idea of ​​an "equal marriage" has modern connotations for us in the 21st century, it doesn't necessarily mean the same for norns.
For them, the partners in a marriage must also be respected and fulfilled. They must have equal status in their community. It's not even just a social norm – it's a functional practice. In norn weddings, there is a part of the ceremony where someone who knows both partners has to speak up and vouch that they are "worthy" for each other.
1


Their unique last name traditions
Norns have a wide variety of surnames! This is because there is no single rule of what your last name should be.
Generally, surnames are not passed on within families, nor between married couples.
Knut Whitebear's child would not have the surname Whitebear. When norns are born, they are usually given a name that means they have no accomplishments: their parents' name + -sson (for a man) or -sdottir (for a woman). For example, one of the main characters is Braham Eirsson, named after his mother, Eir.
The only exception would be that a person who has a well-respected ancestor in their lineage could include that ancestor's name in their last name (or even as their first name). For example, someone's full name could be: Olaf Olafsson, Olaf's seventh son (he was a real character in the original Guild Wars).
Most surnames reflect the achievements of the norn. Some of them are proper names (like Gaerta Whitebear) while others adopt surnames that are more like titles (Borje the Sun Chaser).
NEXT: Guild Wars 2: The Religion Associated With Each Playable Race
Guild Wars 2: The 9 Classes Ranked in Damage
From Guardian to Necromancer, here are the nine classes in Guild Wars 2 ranked by the damage they can deal.
Read more
About the Author