Easy achievements that reward you with high gear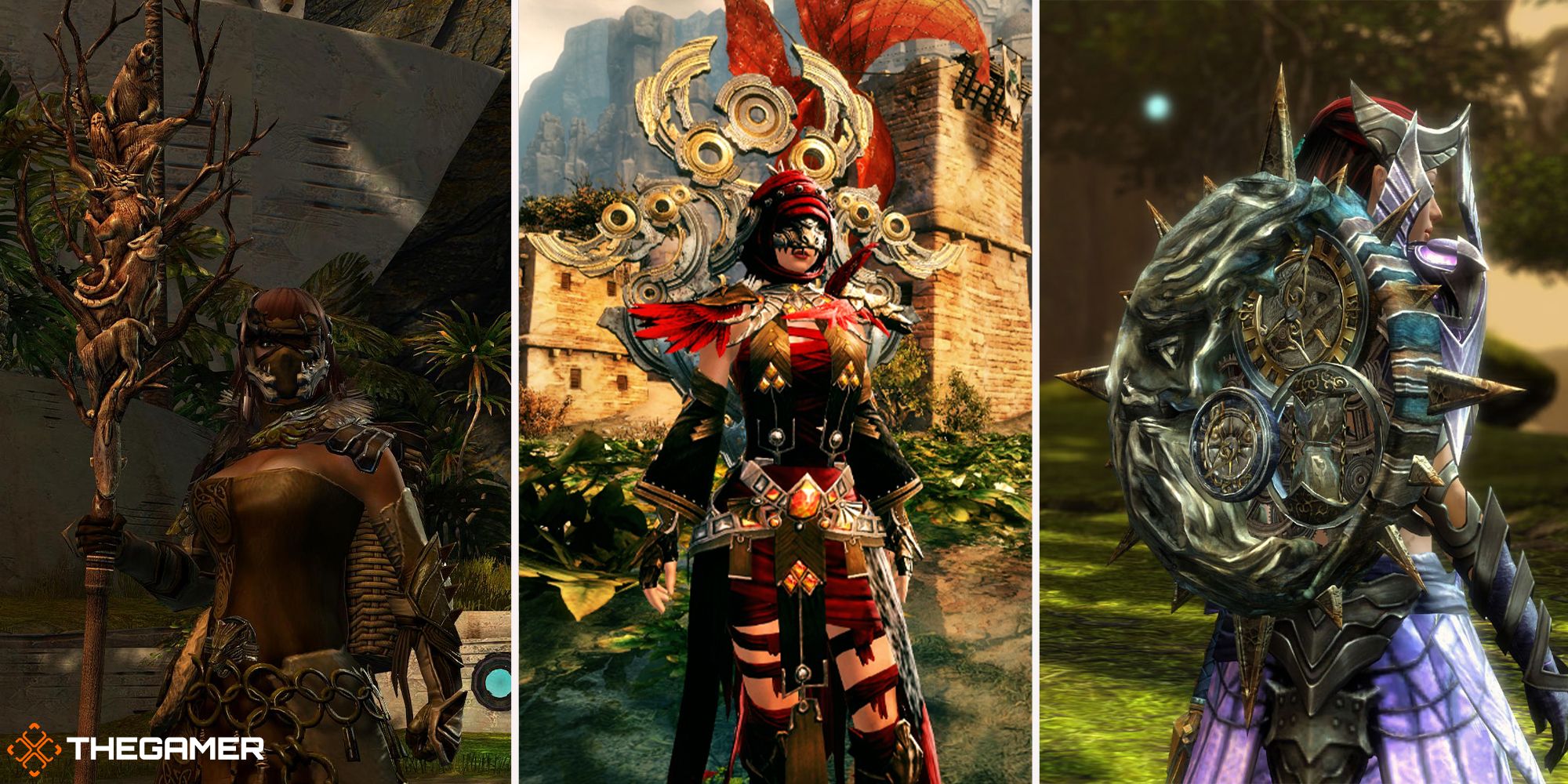 In Guild Wars 2, you'll likely get Exotic rarity gear when you hit the max level, 80. Honestly, even getting a full set of Exotic gear can get expensive. But if you really want to take your game to the next level, you need to take it to the next level: top gear.RELATED: Guild Wars 2: End Of Dragons – How To Craft Aurene's Legendary WeaponsThis article details some easy achievements that will reward you with Ascended gear if you don't want to craft it yourself. Keep in mind that "easy" is definitely a relative phrase – the upward gear is still a hassle one way or another. But the gear you can get from these achievements doesn't require much more than your time investment – As long as you're willing to dive for a few hours, you'll be golden. Plus, your achievement score will increase in the process!
7

Mechanical Weapon Collection (Ascended Weapon)
Extension required: heart of thorns
Statistics: Selectable
The Machined Weapons collection is an achievement that requires you to unlock each mech weapon skin. There's one for every weapon in the game, so 16 in total. Each weapon has its clean achievement of collection of objects, so you will have to repeat the process 16 times. Most of them can be worked in tandem, so it's not as bad as it sounds if you know what you're doing.
Fundamentally, start by unlocking the plated skin for each weapon. These are purchased from special vendors in Dragon's Stand or obtained by completing the PvP Heart of Maguuma reward track. When you unlock the Plated skin, you'll gain access to the Machined skin achievement for the same weapon, and you can go from there.
6

Luminate Backplate (High Backpack)
Extension required: heart of thorns
Statistics: Selectable
You get the success of Luminate's Backplate collection once you acquire the Auric Backplate. The Auric Backplate is earned through the collection of Auric Weapons, which is much easier since there are many ways to stumble upon these weapons.
RELATED: Guild Wars 2: End Of Dragons – Everything You Need To Know About Unusual Pieces
When you're ready to work on Luminate's backplate collection, most of the things you need to get are simply earned by actively participating in Auric Basin meta-events, or purchased from vendors there. Auric Basin is a huge money maker for gamers, so there are still people actively playing it and you should have no trouble finding a group.
5

Relic Collector (Ascended Backpack)
Extension required: Living World season 3, episode 6
Statistics: Selectable
The Relic Collector is a Rare Collections achievement that tasks you with obtaining a Relic for five of the Human Gods. You get them in Siren's Landing, a map that was added to Orr in the third season of Living World. The backpack you receive at the end is Abaddon's Relic.
Humans worship six gods: Balthazar, Lyssa, Dwayna, Grenth, Melandru, and Kormir. Abaddon was one of their gods, but was supplanted by Kormir. Thereby, this quest has you racing to get the relics of all gods except Kormir.
Each Renown Heart in Siren's Landing will sell you one of these relics once you complete its quest. They each cost 315,000 Karma and 200 Orrian Pearls, bringing the total cost of the set to 1,575,000 Karma and 1,000 Orrian Pearls. The path to get there can be a bit long, but not complicated.
4

May his name bring a new dawn (raised weapon)
Extension required: path of fire
Statistics: Mourning (++Power, ++Condition Damage, +Precision, +Ferocity)
May Her Name Bring A New Dawn is an item collection achievement from the Path of Fire expansion that requires you to unlock every Funearary weapon skin. Your reward is a Twin Dynasts War Cache, which reward you with one of the weapons that has a unique skin and Grieving stats.
RELATED: Guild Wars 2: End Of Dragons – Where To Find Fishing Vendors Across Tyria
the Grave Weapons are purchased for a combination of Gold and Elegy Mosaics from the NPC Primeval Steward in the tomb of the primeval kings in the desert highlands. There's a catch, though, because for him to even gift you the items, you need to have completed a different achievement: Triumph of Conquests, which essentially requires you to complete a bunch of legendary bounties across the Crystal Desert. It's not difficult, as there are often players in the LFG racing to complete bounties, but it takes time.
3

Primordus Weapon Collection (Ascended Staff)
Extension required: Living World season 3, episode 2
Statistics: Selectable
We're sure you'll be amazed to learn that for the Primordus Weapon Collection achievement, you need to collect all Primordus weapon skins! We couldn't have seen that coming. To unlock the achievement, you need to do one of two things. First, you can complete the Transfer Chaser achievement by helping Seis Burntheart track down a bunch of magical disturbances. Or, second, you can purchase the Pulsating Destroyer Heart from a renowned heart vendor in Ember Bay – Research Assistant Ulaa – for 42,000 karma.
Either way, once you unlock it, you'll spend your time collecting Primordus' weapons. The only way to get one is to craft it (they don't drop from enemies or anything), but they are not account bound, so they can also be sold at the Trading Post. At the time of this writing, each one will net you between 10 and 20 gold coins if you buy them at the Trading Post. Otherwise, you'll need to be a Master Artificer, Armorer, and Hunter, and buy all the recipes from the respective Master Crafters to get them.
2

Lightbringer, Magister, and Warmaster Packs (Ascended Backpacks)
Extension required: heart of thorns
Statistics: Selectable
These three item collection achievements are all named after the associated ascended backpacks they award to players who complete them. Each backpack is crafted in the style of one of Tyria's three orders dedicated to fighting the Elder Dragons.
The Battlemaster Pack: The Vigil
The Lightbringer Pack: The Order of Whispers
The Magister Pack: Durmand Priory
RELATED: Guild Wars 2: End Of Dragons – Cantha's Best Locations
Your first step to earning one of the packs is to Complete the Heart of Thorns story with a character belonging to the order whose backpack you want to unlock. To get all three, you'll need to replay the story three times with characters from each order. After that, most of the items in these collectible achievements are obtained through map meta events or by trading the map currencies with particular vendors.
1

Specialization Collections (Ascended Weapons)
Extension required: Heart of Thorns and/or Path of Fire and/or End of Dragons
Statistics: Selectable
With each new Guild Wars 2 expansion, the ArenaNet team has added new class specializations that give them access to new weapons. You get a copy of the weapon as soon as you start training in this specialization, and it will have a unique name and skin. At the same time, you'll unlock an associated collection achievement which, when completed, will reward you with an Ascended version with selectable stats.
Honestly, thereou have probably already walked part of the way to one or more of these achievements without thinking a lot about them. You'll get coins for completing meta events while playing the associated class, or simply killing enemies in the area. If you're a fan of a particular spec (and using its new weapon), we definitely recommend these. All available weapons, along with their associated classes and specializations, are listed below.
heart of thorns
path of fire
End of the dragons
Weapon (In-Game Name)
Associated Class (Specialization)
Weapon (In-Game Name)
Associated Class (Specialization)
Weapon (In-Game Name)
Associated Class (Specialization)
Greatsword (Dark Harvest)
Necromancer (Reaper)
Torch (Guide for the Lost)
Necromancer (Scourge)
Pistol (Quietus)
Necromancer (Harbinger)
Hammer (Fix-r-Upper)
Engineer (demolisher)
Sword (the edge)
Engineer (Holosmith)
Mass (percussive maintenance)
Mechanical engineer)
Warhorn (the north wind)
Elementalist (Storm)
Sword (Warpblade)
Elementalist (weaver)
Hammer (Gravity)
Elementalist (Catalyst)
Torch (Wild Abandon)
Warrior (Berserker)
Dagger (Thousand Year Silence)
Warrior (Spellbreaker)
Pistol (the cleanest cut)
Warrior (Blade-Blade)
Staff (Yggdrasil)
Ranger (druid)
Dagger (Fang of Mokele)
Ranger (Soulbeast)
Hammer (crushing weight)
Ranger (Indomitable)
Staff (Bo)
Thief (Daredevil)
Rifle (cursed flintlock)
Thief (Deadeye)
Scepter (possession)
Thief (Ghost)
Shield (Horologicus)
Mesmer (Chronomancer)
Ax (Make Veil)
Mesmer (Mirage)
Dagger (Prima Donna)
Mesmer (virtuoso)
Shield (Bastion of Brill)
Wight (Herald)
Short bow (guerrilla bow)
Revenant (Renegade)
Swordfish (Dichotomy)
Revenant (vindicator)
Longbow (Ydalir)
Guardian (dragon slayer)
Ax (Redaction)
Guardian (Brand of Fire)
Sword (Purifier)
Guardian (master of the will)
NEXT: Guild Wars 2: End Of Dragons Interview – Cantha's Reimagining Process
Here's Why The Eagles Couldn't Just Fly The Ring To Mordor, Fools
Read more
About the Author