Littleton Quilt Guild Donates Quilts to Veterans | Local News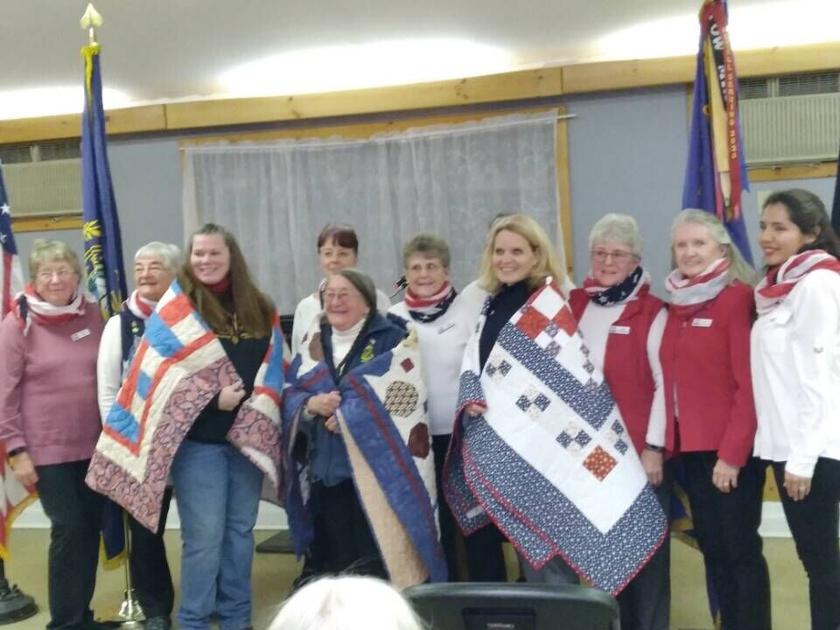 LITTLETON – In time to honor local veterans by Veterans Day, the Littleton Quilt Guild has a new group who donated quilts to three veterans this week in a ceremony at the Littleton Veterans of Foreign Wars Post 816.
Another round of quilt donations is scheduled for December and more in the future.
"A group of women split up this year to make them," said Jane Ladd, who founded the Littleton Quilt Guild more than 15 years ago, on Wednesday. "This group is called the Sew Far North Quilts of Valor group."
The Quilts of Valor Foundation was founded in 2003 and has chapters in states across the country.
The Sew Far North Quilts of Valor group is New Hampshire's newest group, which now has six.
A Bravery Quilt is a handmade quilt awarded to a member of the military service or veteran who has been affected by war as a means, declared by the foundation, of saying "thank you for your service and sacrifice to the service of our nation ".
"This was our first presentation and we're just getting started," Ladd said. "Four more quilts will be presented in December. "
The group meets twice a month on Mondays at Littleton Community House.
"The quilts are about the size of the knees and they give their own time and usually their own fabric," Ladd said.
Quilts of Valor was founded by Catherine Roberts of Iowa.
"She thought it would give comfort to the living veterans who served and it would be a good idea because quilters love to share their art and sewing skills," Ladd said. "Quilts, probably any quilt, are known to provide comfort and a sense of coziness and warmth to people. Many of us in the Littleton Quilt Group were thinking about projects and many of us were already familiar with the national program that makes these quilts.
Veterans Kelly Nelson, Dori Hamilton and Tonya Eastman were honored with quilts on Monday at Littleton VFW.
Nelson, from Monroe, was an active Marine from 1989 to 1993 and served in the Gulf War, Desert Shield and Desert Storm. She served as a Military Police Corrections Specialist.
Eastman, of Littleton, was in the active Air Force from 1986 to 1993, serving in the Gulf War, including Desert Storm and Desert Shield. She was awarded the Volunteer Honor Guard, Health Service Management, National Defense Service Medal, Kuwait Liberation Medal, and Aviator Leadership School Award.
Hamilton, from Lisbon, served as a naval nurse from 1967 to 1987 and was stationed for naval support activities in Vietnam in 1969 and 1970 to support a 600 patient hospital of American and allied military and civilians in Da Nang .
Hamilton also worked in the White House medical unit for three years under the Carter administration and one year under the Reagan administration. She was the unit's chief nurse and retired from the Navy as commanding officer.
Several weeks ago, Hamilton was contacted by Sew Far North Quilts of Valor regarding the donation.
"I am really impressed," she said. "It certainly makes a lot of sense to me to be a Vietnamese vet. I feel honored and privileged to be one of the first three recipients. The VFW has done a wonderful job organizing and delivering a formal program with their color guard. "
All three quilts were made by members of Sew Far North Quilts of Valor, Linda Greenwood, Jane Graham and Jeanne Bernett, and they were quilted by Andrea Graham.
Previously, Graham, who owns the Sew Far North Quilting Studio in Littleton, brought in several quilters to his studio expressing their interest in making valuable quilts, Ladd said.
"From there it turned out they were going to branch off and spend a Monday afternoon twice a month getting together, sharing ideas and working on some of these quilts," she said. declared. "The quilting is a social friendship activity and they just branched out. There are about ten now who meet.
In total, the Littleton Quilt Guild has approximately 20 male and female members who meet on Thursdays.
For years, the guild has been involved in a multitude of projects, many of which are charity projects.
"The Littleton Quilt Guild made quilts for the Second Chance Cat Shelter that are raffle quilts," Ladd said. "Most of the time what we did was raffle quilts. We also made quilts for the Littleton Hospice. A year and a half ago, we made over 1,000 masks ourselves when COVID started and distributed them to select nursing homes, retirement homes and individuals. This is when you couldn't get these masks. We made nursing home bags that residents use on their walkers so they can carry their books or whatever. This gives them a wallet that hangs over a walker. We have created pillow cases which are fun and original pillow cases for children who have been hospitalized or released from a hospital.
As for honoring veterans, Sew Far North Quilts of Valor has a long future ahead of it, she said.
"I think this is an ongoing program that this group will be working on for a while," Ladd said. "There are a lot of quilters out there who are still sewing and want to volunteer their time and it's definitely worth it."