The religion associated with each playable race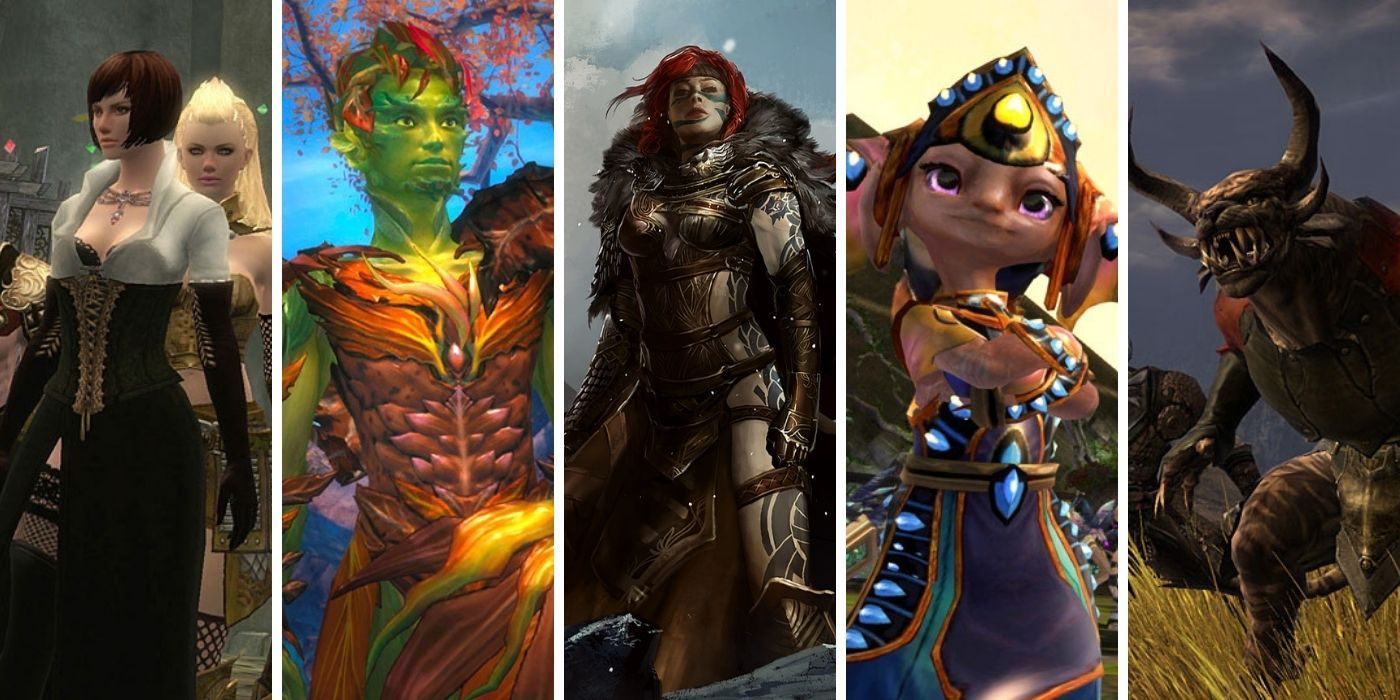 Guild Wars 2 is a Massively Multiplayer Role-Playing Game (MMORPG) for PC with a long history. It has been on gamers' minds recently, due to the recent outrage over its latest expansion and the announcement of its plans for the summer of 2021.
RELATED: 10 Guild Wars 2 Memes For Veterans
The history of Guild Wars is extremely rich and varied, with five playable races for players to choose from. Magnificent cities, unique aesthetics and complicated histories differentiate these species from one another. One of the most critical differences, however, is their religious and spiritual life. Their beliefs provide key information about how these races make decisions, what they prioritize, and how they engage and think about the world of Tyria.
5

Asura – Eternal Alchemy
The Asura do not have a particular god or being that they worship. Rather, they believe in the concept of "Eternal Alchemy", which suggests that everything in the world is a cog in a larger cosmic machine. Many Asura will be offended if Eternal Alchemy is called a "religion" – it is a Science!, they will insist.
By mastering the different parts of Eternal Alchemy, the Asura believe they will gain mastery over the whole world. For this purpose, their company is divided into three colleges. Most Asura join one of these three colleges to do their research.
The College of Synergetics is interested in the larger models of Eternal Alchemy, not in creating things that can be applied to everyday life. The Static College is known for its precision and prudence, which makes them excellent for large-scale construction projects. The College of Dynamics is fascinated by the unknown and enjoys experiencing things that no one else has even imagined.
4

Charrs – Atheists
As a rule, the Charr rage against the gods. They regard the gods of other races (especially the six human gods) as powerful beings and nothing more.
RELATED: MMORPG: 5 Reasons to Play Guild Wars 2 (& 5 Reasons to Play FFXIV)
When the Charr civilization began to spread, their progress was halted by human gods now known as "the Forgotten". They then decided that the Charr needed their own gods to fight against humanity, which resulted in an alliance with a monstrous race known as the Titans. But when even the Titans were killed, a rebellion broke out against the Charr leaders. Since then, most of the Charr have rejected any concept of a god. The members of their society who worshiped the Titans were weakened, but still exist today as the "Legion of the Flame".
Today, the only thing the Charr look like gods are their folk heroes. These are Charr who have achieved incredible feats in their lifetime, such as Pyre Fierceshot, who was one of the instigators of the rebellion against the cult of the Titans.
3

Human – The Six
The humans of Tyria worship a pantheon of six humanoid gods: Dwayna (goddess of healing, air and life), Balthazar (god of war, fire and courage), Kormir (goddess of order , of spirit and truth), Melandru (goddess of nature, earth and growth), Grenth (god of darkness, death and ice) and Lyssa (double-faced goddess of beauty, water and illusion). This group is collectively referred to as "the Six".
The Six are immensely powerful, but they can die, they have family members, and they are not omniscient. Their powers are specific to the particular god who wields them, and some speculate that while the god can be destroyed, their power cannot. This is used to explain how some gods died and succeeded eg Abaddon was the god of water and knowledge before being replaced by Kormir.
Humans believe the gods brought them to Tyria and helped them prosper. However, around 250 years ago, the Gods stopped actively helping or communicating with humans. This has not stopped mankind from being strong worshipers of the Six. Some may doubt, but they are rare.
2

Norn – Spirits of Nature
Norns do not worship a set of gods. Instead, they believe that every animal species has a spirit, four of which are particularly revered: the snow leopard, the crow, the wolf, and the bear. These four are the "Great Spirits of Nature".
RELATED: Guild Wars 2: The 9 Classes Ranked By Damage
Each spirit does not represent a particular aspect of life or a characteristic – rather, the spirit of an animal represents the totality of that animal's personality. For example, Snow Leopard is considered a solitary strategist who is dedicated to his hunts. This teaching is supposed to come with its own advantages and disadvantages. Norns are not asked to worship all spirits alike – they are encouraged to be individuals and to find their way in life by choosing a spirit to guide them.
The Norns praise the Great Spirits of nature, especially because these four spirits are said to have guided the Norn people south when the ancient dragon Jormag forced the race to move. This event is known as Exodus Norn and is still remembered with sadness by the people.
1

Sylvari – The Ventari Tablet And The Pale Tree
Sylvari spirituality revolves around two figures: The Pale Tree and Ventari.
The Pale Tree is the mother of all Sylvari, so her wisdom is regarded with the greatest respect. Although, to an outsider, the Sylvari may seem to revere the Pale Tree as a goddess, they actually engage with her more like a mother figure.
Ventari was a centaur who lived years ago and planted the pale tree in the grove. Before his death, he inscribed a tablet with seven critical teachings that he wanted to impart to this new race. The Sylvari do not regard Ventari as a holy figure – her words are simply seen as wise advice on living her life.
The Sylvari "religion" would seem very strange to a foreigner; it is really better qualified as spirituality than religion, since it is not centralized. Many Sylvari participate in the same practices – like visiting the Pale Tree and talking to it when they need advice – but each has a unique understanding of their world. Another common practice among Sylvari is to treat plants with the same respect as another humanoid – after all, Sylvari can talk to plants much like two people might talk to each other.
NEXT: The 10 Best Free Multiplayer Games For RPG Fans, Ranked

following
10 Apex Legends Fuse Memes Only True Fans Will Understand

About the Author