Bad Batch Episode 8 Brings Back Cad Bane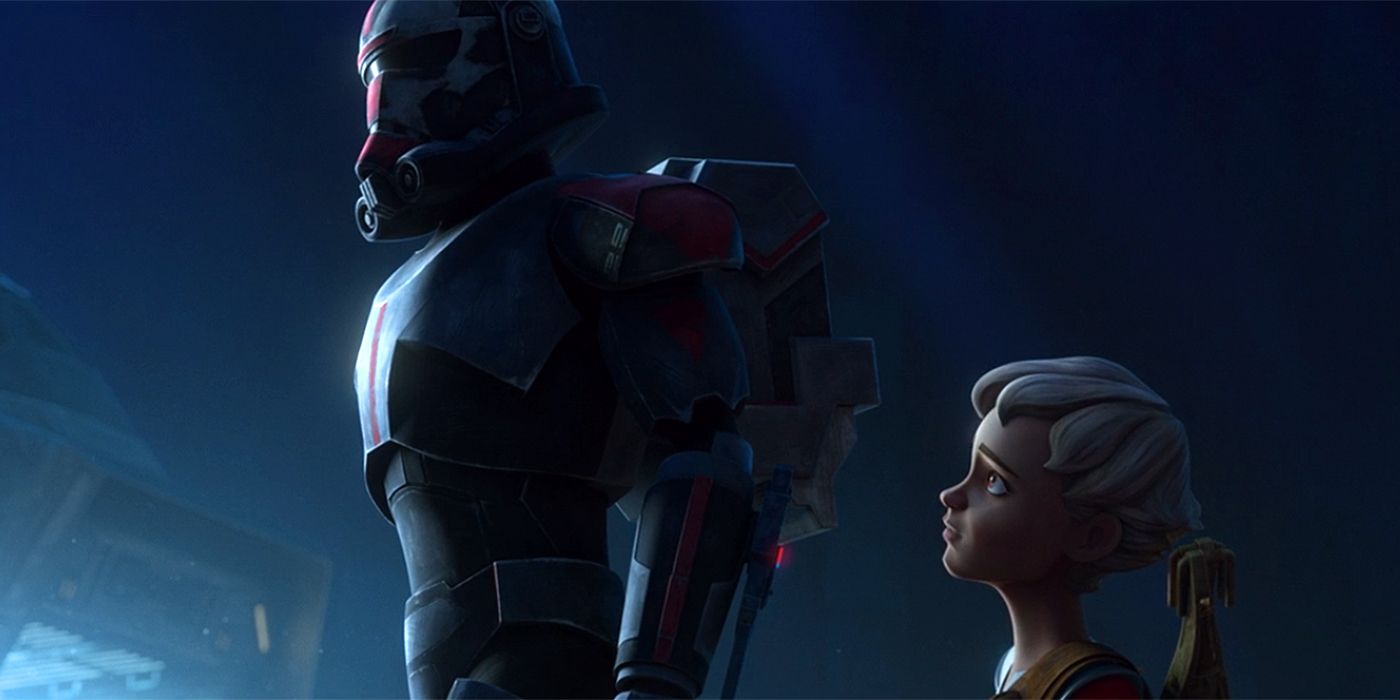 A fan favorite Star Wars: The Clone Wars character returns in The Bad Batch Episode 8 to make life more complicated.
WARNING: The following contains spoilers for Star Wars: The Bad Batch Season 1, Episode 8, "Reunion," streaming now on Disney +.
In the eighth episode of Star Wars: The Wrong Lot, Clone Force 99 is still on Bracca after their meeting with Captain Rex – and, thanks to advice from the Scrapper Guild, the Empire knows it. As the team scavenges memory banks and armor from a destroyed Jedi cruiser in the hopes of making a profit, Crosshair shows up with three troop shuttles determined to take down the rogue clones.
Crosshair knows what his former teammates are capable of and leads them into multiple deadly traps. The sniper turns out not to be this episode's most dangerous opponent, however, as the Bad Batch face a fan-favorite bounty hunter. The clone wars: Cad Bane launcher of weapons.
RELATED: Star Wars' Carrie Fisher to Receive Star on Hollywood Walk of Fame
When Crosshair learns of the whereabouts of Clone Force 99, he immediately informs Admiral Rampart, who is in a tense meeting on Kamino with Prime Minister Lama Su. Bulwark immediately sends Crosshair and his elite soldiers to exterminate them. Lama Su advocates bringing the rogue clones back and using them, but Rampart isn't in the mood to listen; he just wants Clone Force 99 removed from the board.
However, Lama Su and Nala Se have another priority – which requires Omega's safe return. And so, Lama Su is making a possibly rash gesture. First of all, he confirms that he has hired Fennec Shand, but he is not happy that she has so far failed in her mission. He tells Nala Se that he is taking further steps to buy back Omega.
After a close escape from Crosshair's forces that involved being nearly cremated in the engine of a Star Destroyer, the Bad Batch is split up, with Wrecker, Echo, and Tech in one group and Hunter and Omega in another. They decide to go to their shuttle, but someone beat them up there. Hunter and Omega arrive first to find a group of already dead Crosshair troops. Then the galaxy's most notorious bounty hunter steps out of his shuttle and Cad Bad is serious.
REALIZED: The Bad Batch shows just how far Star Wars animation has come
Hunter is the only thing between Cad and his bounty, Omega. Because the faulty clone means nothing to him, Bane is completely ready to kill him, but Hunter isn't about to fall without a fight. The two stand there like two gunslingers from the Wild West as classic dueling music plays, waiting for the other to draw.
Determined to protect Omega, Hunter takes his first step, but Bane's reputation is well deserved. Bounty hunter Duros shoots, detonates Hunter in the chestplate, and returns his blaster to his holster without flinching. He never even lost the toothpick between his teeth. Then, Bane changes his blaster to stun in order to neutralize Omega for the return to Kamino.
Hunter survives the encounter, the final moments of "Reunion" plotting a risky return to Kamino to save Omega, and possibly a rematch with Cad Bane.
Created by Dave Filoni, Star Wars: The Bad Batch stars Dee Bradley Baker, Andrew Kishino and Ming-Na Wen. New episodes air Fridays on Disney +.
KEEP READING: CBR's Guide to the Bad Batch: News, Easter Eggs, Reviews, Recaps, Theories & Rumors
Star Wars: Acolyte's Leslye Headland isn't intimidated by the threat fandom
About the Author