How to Unlock the Warclaw Mount in Guild Wars 2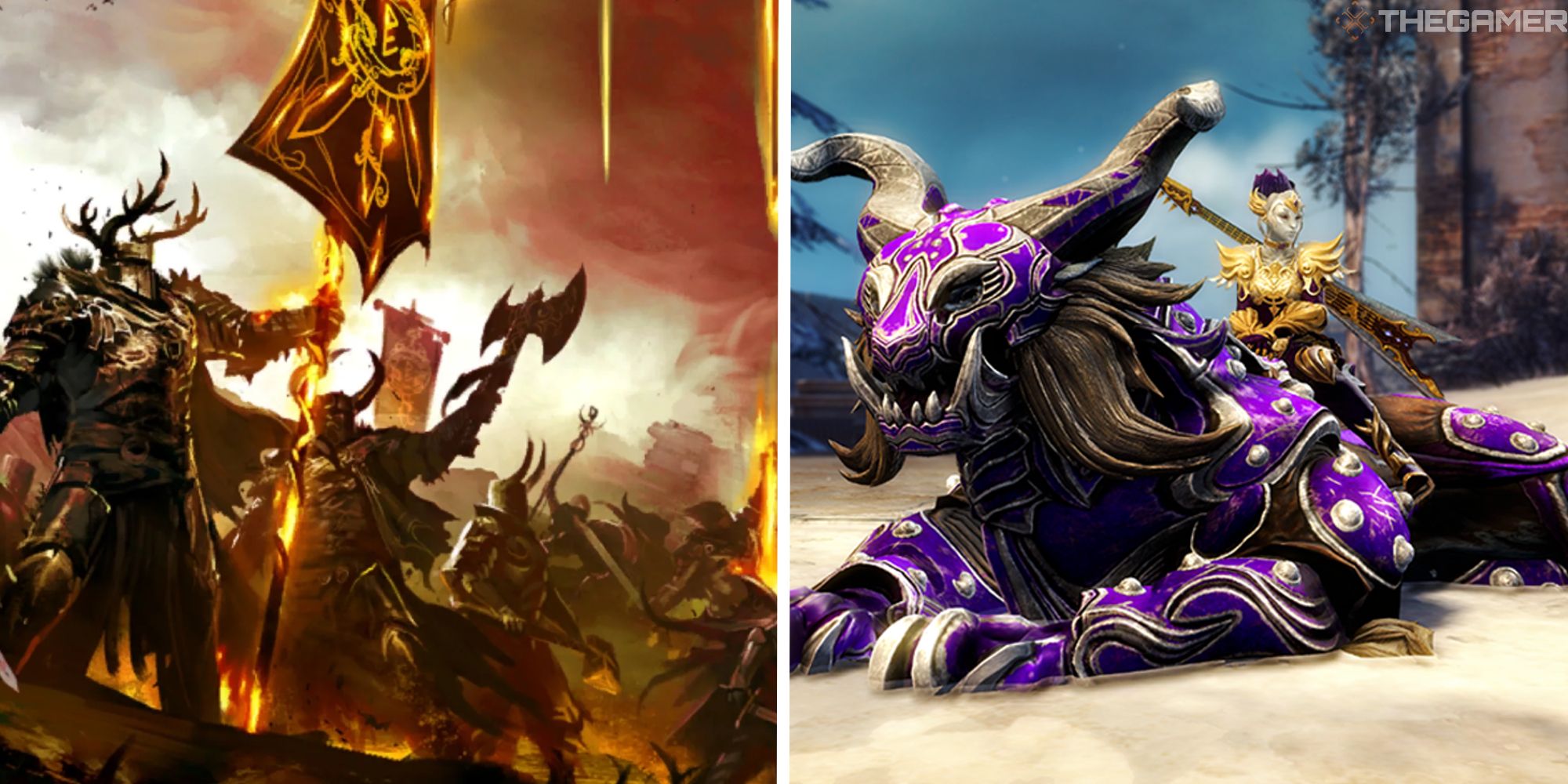 The Warclaw is an exclusive mount in Guild Wars 2 which is unlocked through WvW. This is a game mode that pits you against other servers and requires you to work with others to capture territory. On WvW maps, you won't be able to use regular mounts, which is where the Warclaw comes in handy.
Related: Guild Wars 2: Differences Between Free and Paid Versions
This unique mount is the only one available in WvW, but it must be unlocked first. In this guide we will look at how to unlock warclaw mount. First, let's go over the initial achievement that needs to be unlocked first.
Unlock the Companion Warclaw achievement
Before unlocking the Warclaw itself, you will need to unlock the Warclaw Companion achievement.
This can be unlocked by spending a World Ability Point on Warclaw Mastery. If you are new to WvW, this can be done by opening the WvW menu (this is opened by pressing 'B' by default).
From here, click on the 'Ranks and Abilities' tab, then scroll to the bottom of the list, where you will see the Warclaw Mastery.
Ability Points can easily be earned by completing WvW content. All you have to do is participate in events and gain experience; after a while, you will get an ability point which can then be spent to unlock the Warclaw Companion achievement.
Collect Warclaw Coins
Now that the mount achievement has been unlocked, let's see how to collect the eight items needed to get the Warclaw.
Warclaw Emblem
This piece of Warclaw unlocks immediately after unlocking the Warclaw Companion achievement, so you don't need to get this item yourself.
Warclaw Gorget
The Gorget Warclaw is rewarded once you capture a dungeon. These are the giant fort-like structures found throughout the map.
In the picture above you can see the Stoic Bulwark, which is a dungeon in the borderlands of the Red Desert.
Forts will have waypoints that you can teleport to. If the Waypoint is contested, your team has not captured the Dungeon.
To capture a dungeon, you will need to work with a team. Luckily, it's a common goal, so after playing around for a bit, you'll eventually be able to capture a dungeon.
Warclaw Horn Tips
To get the Warclaw Horn Spikes, you must capture a camp. These are smaller areas on the map that don't have large structures or waypoints.
Warclaw Saddle
After capture a tower, you will be rewarded with the Warclaw Saddle. Towers are not as large as dungeons, with only one entrance. These are more difficult to capture than Camps, but not as difficult as Fortresses.
Warclaw Helmet
This is one of the most tedious items to obtain. To get the Warclaw Helmet, you will need to complete the Warclaw Reward Track.
From the WvW screen, head to the third tab, where you can see all the different reward tracks. Here you can scroll and select the Warclaw reward track.
With the track selected, you will gain experience for it. Globally, your goal is to gain enough experience to get all the rewards and get the Warclaw Helmet.
Warclaw Armor
Warclaw Body Armor can easily be purchased from a Warclaw Tender with 50 WvW Skirmish Claim Tickets. This type of merchant can be found near your team's main waypoint on each map.
When you unlock other items in this achievement, you will receive the item itself, and when consumed, they give away five of these tickets. By gaining experience and participate in eventsyou will also be able to earn more WvW Skirmish Claim Tickets.
Warclaw leg armor
At Warclaw Tender you can also Purchase the Warclaw Leg Armor for 250 Honor Badges. This is a WvW currency that can be earned through participation. Additionally, you can choose to Obtain 20 Badges of Honor from a Skirmish Chest. These chests will be periodically rewarded as you gain experience and progress on the skirmish reward track.
Warclaw tail armor
Finally we have the Warclaw tail armor. This item will drop from NPC guards that can be found around the map.
Guards are any enemy on the map that is not another player. Overall, the chance of getting the tailpiece is around ten percent, but if you work on capturing dungeon, camp and tower, you will be able to kill many guards.
Warclaw Certificate of Ownership
Once you have the eight items listed above, you will receive the Warclaw certificate of ownership. This can then be taken to a Warclaw Tender, which will reward you with your very own Warclaw mount.
You can now continue to use ability points to unlock additional Warclaw abilities that are beneficial to WvW.
Can you use the Warclaw in PvE?
The Warclaw mount can be used in PvE, but you will not be able to use unique abilities WvW Warclaw.
Unlike other mounts, there is no mastery track that can be unlocked with mastery points. Globally, the Warclaw is also slower than other PvE mountswhich does not make it the best choice of transport for exploring the world.
Next: Guild Wars 2: A Beginner's Guide to Fractals