Is New World basically just RuneScape? Well, sort of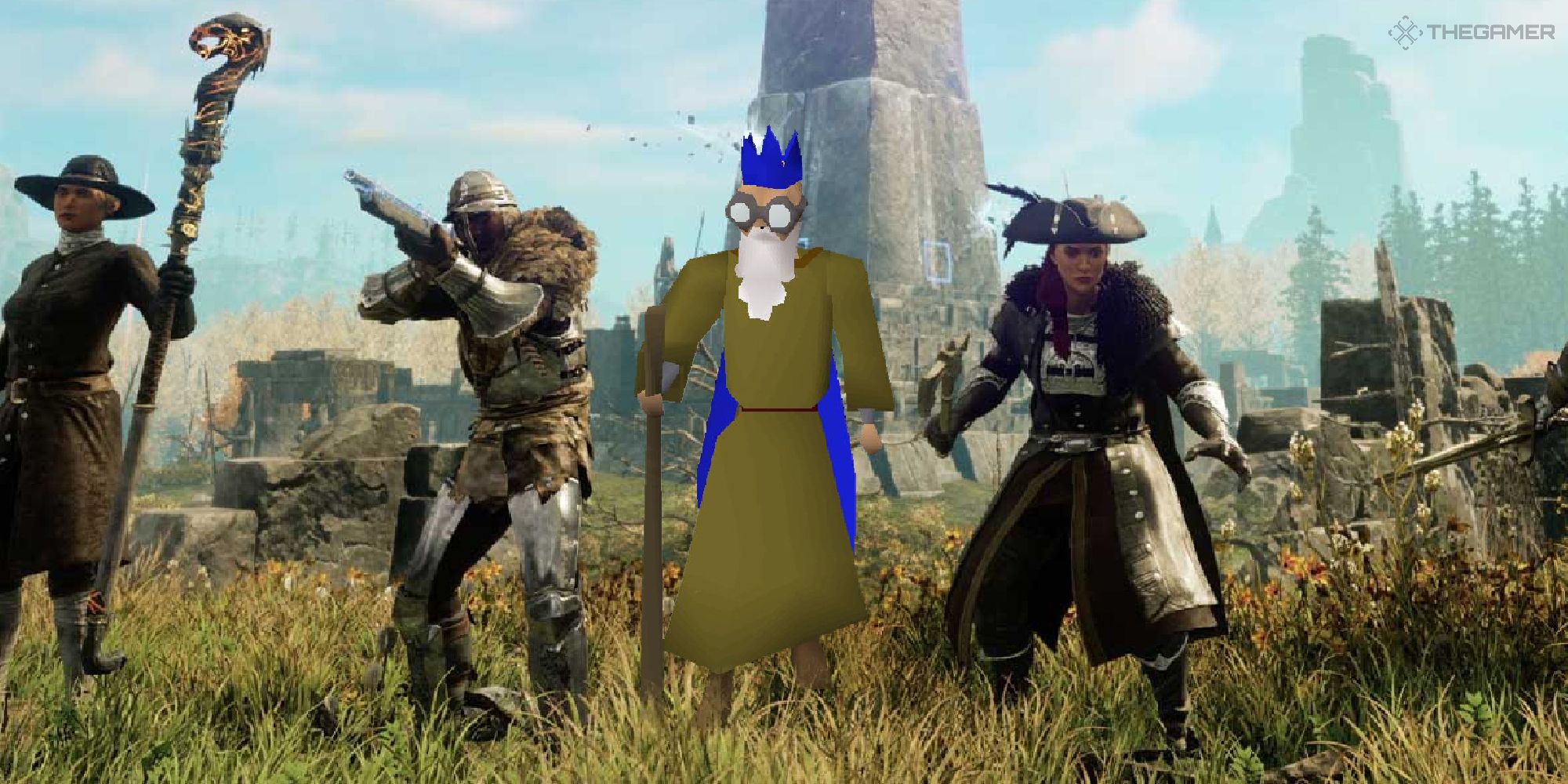 It's 2001 and you just got home from school. There are rocks to dig, chickens to hunt, and gold to collect. You're competing for cow hides on the farm outside of Lumbridge and iron ore mining southeast of Varrock – it's your favorite grinding route and you can't really say why. A player has just tricked you into exchanging your Obby cloak for a pinch of gold. You are 11 years old and it is the worst thing that has ever happened to you. It's RuneScape.
20 years later, Amazon Game Studios released an MMO almost identical to RuneScape, but with a new lick of paint, a better PvP system, and a lot more funding. New World is essentially "RuneScape except it's not really RuneScape" – let me explain.
RELATED: Despite Its Flaws, New World PvP Is Its Savior
New World dives deep into the nostalgia pool and releases a grossly distorted version of the games that came before it. Amazon executives sit in a room and ask, "So what do gamers like?" and that's what you get. New World takes Oblivion's repetitive dungeons and replicates them in its barebones expeditions, the world chat is reminiscent of the buzzing EverQuest social media full of cooperative weirdos at a named overnight camp, and skill-based combat is also fluid than Guild Wars 2. However, it's RuneScape lurking in the shadows, muttering "I hax this cat lulz" under its breath.
First up, there's the infamous RuneScape version. An endless, useless and yet totally satisfying grinding. Even after all these years, people want to play almost exactly the same way they did in RuneScape: for a long time, and for no real reason. Even in a modern multi-million-pound title like New World, the grind remains unnecessary. There was never a point. Will never be. 2001 and 2021? Same thing, buddy.
You spend hours improving your skills, to get an ax that cuts trees faster and a pickaxe that drops more gems. Your harvesting skill won't do the laundry for you or get you promoted at work. So why have 800,000 simultaneous players logged in every day since New World's release to chop down trees and mine for iron ore for hours on end?
I think it's pretty straightforward. The numbers increase = happy. The different experience bars, skill points, and slow progression through the hundreds of craftable items in the New World mean there is always something you can do. Ignore the rest of the game completely: if you want to spend 45 hours fishing for the absolute premium pike, you can.
RuneScape looked a lot like this, but New World does it even better. The crackle of a falling tree or the satisfying bits of your pickax echoing through the valley like gunshots turn the mundane into something much more intoxicating. Grinding in New World is the best useless thing I've ever done.
Combine this grind with the social aspects of an MMO like New World and things quickly get less boring. Mining iron in RuneScape was not a lonely experience. I have fond memories of a random player who just sent "Nice ore!" Every time I've finished tapping a vein. RuneScape's world chat was a weird place at the best of times, but there was almost always someone to talk to. Last night, while chopping trees in the New World, I was approached by three players from an opposing faction who asked if they could come and cut trees with me. We spent the next two hours walking through the forest and chatting every now and then. It was peaceful, a bit surreal, and the only place you should meet strangers in the woods.
There is also a little more than that. This year there have been a lot of single player games at a time when most people prefer to be with their friends. I mean, one of my favorite games this year was Loop Hero, a solitaire game that embodied containment. This should not overlook the continued success of Final Fantasy 14 – which has player-run theaters and shows, by the way – but there is clearly a place for an emerging online social game like New World in the world. tune of the times.
For example, our faction was formed on the very day we left the New World. There are people from all over Europe, and everyone spends time on Discord and plays for hours. This morning we spent a few hours fishing together. We didn't know each other last week.
On top of all this, it's clear that gamers are desperately looking for a classic MMORPG. Final Fantasy 14 is obviously great, and ESO gives TES fans a stellar experience in Tamriel, but New World scratches an itch of nostalgia that other games just don't. The quests, the towns, the social aspects… they're all very old-school.
Even so, it appeals to a generation of gamers who have never experienced the wonders of RuneScape over a mildly buzzing CRT and dial-up connection. Why? Because the grind is essential. Timeless. Beyond nostalgia. Everywhere you turn, there's another tree to be cut, a turkey to be plucked, a rock to be smashed. You cannot resist. It has to be done. Sure, that may be unnecessary – but wow, this is gonna be awesome.
NEXT: The New World's Reason For Not Having Mounts Is Very Silly
Nickelodeon All-Star Brawl Devs Cast Little Super Smash Bros-Style Shadow
The developers of Nickelodeon All-Star Brawl are listening to you, claiming their Smash Bros. do not do the same.
Read more
About the Author