Every festival and when they happen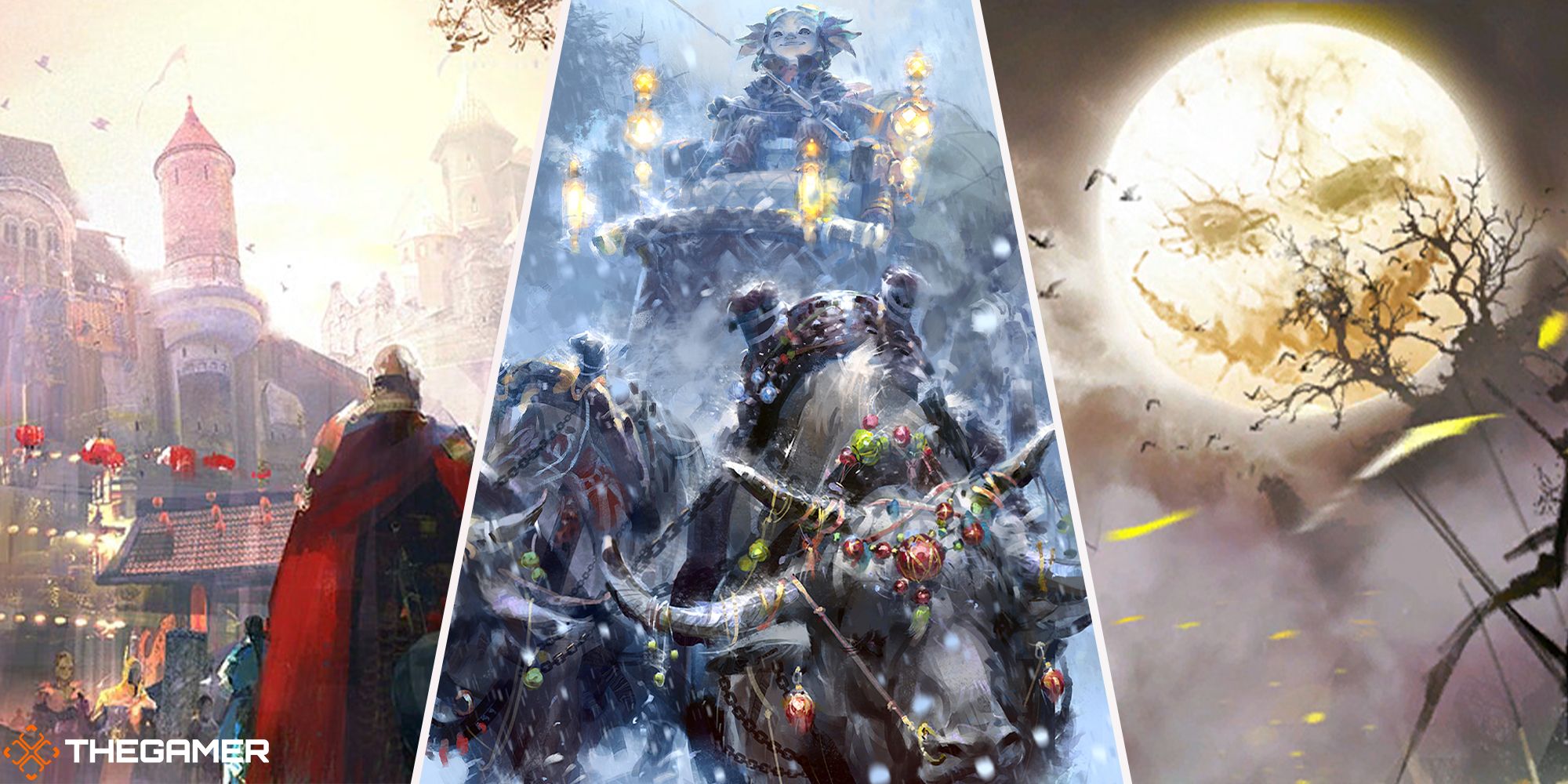 Guild Wars 2 takes place in Tyria, which feels like a living, breathing world thanks to the hard work of the ArenaNet team! Players love it for the engaging events that encourage players to work together, constantly venturing into new parts of Tyria, and the ongoing story that slowly comes out over the years.
RELATED: Guild Wars 2: End Of Dragons – Cantha's Best Locations
To bring this world even more to life, Guild Wars 2 includes a number of festivals that take place throughout the year. Some parts of the world are changed to include special events, currencies and NPCs! Many of them correlate with real-world events, so players can bring their excitement into the game world.
6

Lunar new year
When: January or February (corresponds to Chinese New Year)
Or: Crown Pavilion, Reach of Divinity
The Lunar New Year is the first event of the year! It takes place in January/February and is inspired by Chinese New Year celebrations and traditions. In tradition, this marks the beginning of the Canthan New Year. The associated celestial animal is said to watch over Tyria for the coming year.
In-game celebrations involve playing special games, setting off fireworks, and earning and opening lucky envelopes. The real attraction, however, is the Dragon Ball arena, where you play something akin to dodgeball with other players.
5

super adventure festival
When: Early April – Early May
Or: Creator's Commons, Rata Sum
The Super Adventure Festival is a wacky occasion where players can enter a special pixelated dungeon that involves platforming challenges and retro-style enemies and NPCs. It was originally created as an April Fool's joke in 2013, but has stuck around ever since!
The Super Adventure Box is a dungeon like any other in Guild Wars, except that it only happens once a year. You can perform it solo or in a group. There are different zones, a hardcore mode and a special race! Like the other dungeons, there is also a lot of success.
4

dragon kick
When: Early June – Early July
Or: Hoelbrak
The Dragon Bash is a festival that celebrate the world's victories against the Elder Dragons! He performs every year in Hoelbrak, the birthplace of the Norns. It is the tradition, it took place for the first time after the defeat of Zhaitan. This one actually took place in Lion's Arch, but it moved to Hoelbrak in 2019.
RELATED: The Best Free Multiplayer Games For RPG Fans, Ranked
The activities celebrated during the event are all very noisy (as to be expected, given that it is run by the norns). You can do things all over Hoelbrak, and many events involve holograms of the Elder Dragons you know and love! There are races to bet on, pinatas to beat, battle challenges to win, and more.
3

Festival of the Four Winds
When: July August
Or: The Crown Pavilion, Divinity's Reach and Labyrinthine Cliffs
The Festival of the Four Winds is hosted by the Zephyrites, a mostly human organization of nomads who roam Tyria in airships. It's actually a combination of two events that took place in 2013: the Bazaar of the Four Winds and the Queen's Jubilee.
The Labyrinthine Cliffs events will be familiar to you if you've spent a lot of time on the Dry Top map. Scavenger hunts, races, fun with crystals, all that good stuff. Meanwhile, in Divinity's Reach, Queen Jennah is hosting special events to test your combat abilities.
2

Halloween
When: Mid-October – early November
Or: Grand Piazza, Lion's Arch
The Halloween party is inspired by the holiday of the same name on Earth! Guild Wars has an otherworldly place called the Mists, and part of the Mists is the underworld: a place, ruled by Grenth and Raven, where everyone goes right after death, where they are then sent to their permanent place in the Mists. The underworld is divided into kingdoms, one of which is ruled by the Mad King Thorn.
During Halloween, the real world and the underworld are very close; magical portals can send dangerous creatures to Tyria, and players can enter the Mad King's Realm to access a host of special activities.
1

Wintersday
When: Mid-December – Early January
Or: The Crown Pavilion, Divinity's Reach
Like Lunar New Year, Wintersday is also a celebration of a changing year! However, while the Lunar New Year is celebrated according to the Canthian calendar, Wintersday is the Tyrian New Year according to the Mouvelian calendar. It's inspired by Earth's Christmas traditions, so there's lots of pine trees, wrapped boxes, snow, bells and a Santa Claus character: the toymaker!
There are tons of activities to participate in for Wintersday, like a special instance where you have to barricade yourself against rampaging toys, a jumping puzzle, and snowball fights (among others). Plus, if you're in, players run a "Secret Toymaker" event – basically, like Secret Santa, you get a random gift from another player, and you send a random gift!
NEXT: Guild Wars 2: Easy Achievements That Reward You With Ascended Gear
This Taco Bell Mexican Pizza Ad Has a Random Kingdom Hearts Reference
Read more